OPTDSIGN™ - Leading the way with community first solutions
No preheating of the pavement to a specific temperature required
Durable, heavy duty intersection grade horizontal signage
Custom designs available
Mark the future with innovation
Make the asphalt your canvas with OPTDSIGN. With OPTDSIGN dark, dull surfaces can promote community pride, provide safe horizontal signage to guide pedestrians, motorists and bicyclists along shared pathways and reinforce corporate identity. Whether it is a playground, a public area or a business entrance that needs an update, OPTDSIGN horizontal signage offers a creative solution. The idea of OPTDSIGN is quite simple: You name it – we make it!
No preheat required
OPTDSIGN does not require preheating of the road to a specific temperature providing simple and fast mobilization. With no specific road or air temperature requirements, the pavement marking season can be extended.
Durable horizontal signage
OPTDSIGN is a heavy-duty intersection grade preformed thermoplastic pavement marking built on the proven durability of OPTAMARK™ and engineered to maximize skid resistance and color retention.
Custom designs available
OPTDSIGN is available in a variety of designs to meet the growing needs for horizontal signage in the public and private sector.
Innovative cost effective solutions
OPTDSIGN ease of application and design alternatives provide cost effective multimodal, safety and community branding solutions. Due to recent events, social distancing horizontal signage provides simple visual cues that are an ideal safety solution for everyone.
Focus on the environment
OPTDSIGN emits no environmentally harmful substances during application or at the time of removal. The organic pigments do not contain lead or other heavy metals. There is no plastic around the packages and the cardboard can be recycled.
Small applications as easy as 1 - 2 - 3
OPTDSIGN is fast and easy to apply. Smaller applications require only one person and a QL2™ propane fueled heat gun.
Large applications easy with IR Heater
OPTAHEAT™ infrared heater is uniquely designed to optimize the application of large OPTDSIGN pavement markings.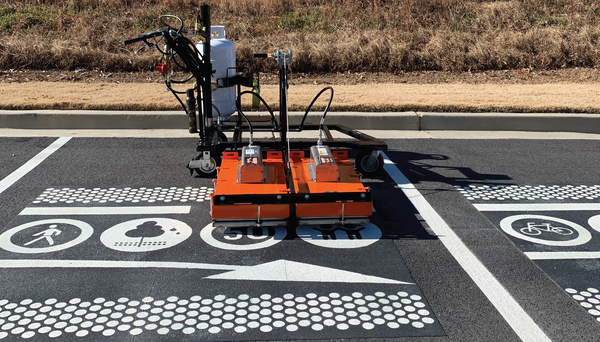 ---